We simply can't seem to get out of the holiday spirit, so when we saw yet another festive treat on pinterest, we decided to give it a try! These little edible sleds seemed very easy to make and only take 4 ingredients. We thought they might be the perfect dessert to make with the kids we babysit while we're home over winter break!
As girls who were born and raised in Florida, neither of us really have any experience with sledding. However, even we can't help but feel the excitement of the season when we see these adorable little teddy grahams on their candy bar sleds! There's something intrinsically holiday-ish about sledding; maybe it's all of the Christmas movies we saw growing up that depicted it! But moving on, let's see how we made these adorably festive treats.
Ingredients:
Teddy Grahams
Small chocolate candy bars- the original pin called for Milky Ways, but we found that Three Musketeers work much better
Mini candy canes
chocolate icing
1) First we had to cut off a little of the stick of the candy cane to make it shorter, then we cut off a little of the hook (ours were really curved) to make the cane look more like the bottom of a sled. We found that a serrated plastic knife worked best. First, move the knife back and forth to make a small dent in the candy cane.
2) Next use your hands to snap the end of the candy cane off at the indent that you made with the knife.
Now you have a perfect sized candy cane to make the sled! You can choose to do this project without cutting the candy canes if you want to save time, but we thought it looked more like a sled when we cut them. (In the picture below you can see the difference between the cut and uncut canes)
3) Using a small sharp knife, cut a small hole in the top of your mini chocolate candy bar. It is best if you repeatedly jab into the chocolate in order to break it up- this is the hole that the teddy graham will sit in.
4) Put your cute little teddy graham into the hole that you made in your candy bar. The candy may break apart a little- this is ok, it still looks cute when it's done! (We liked the Three Musketeers bars better because the chocolate broke less)
5) Using a knife, spread icing on the bottom of your mini chocolate bar, and stick two candy canes to the icing.
6) You're done! Now you'll have a cute little army of bears on sleds for all the kids (and adults) at your next party!
Overall, we were very pleased with the candy cane sleds! The easy assembly of candy into an adorable shape reminded us a little of our Oreo Turkey Treats. They turned out to be just as easy as promised, and therefore we fully revoke shenanigans (not that we really thought they weren't going to work, but we wanted an excuse to make these adorable christmas treats)!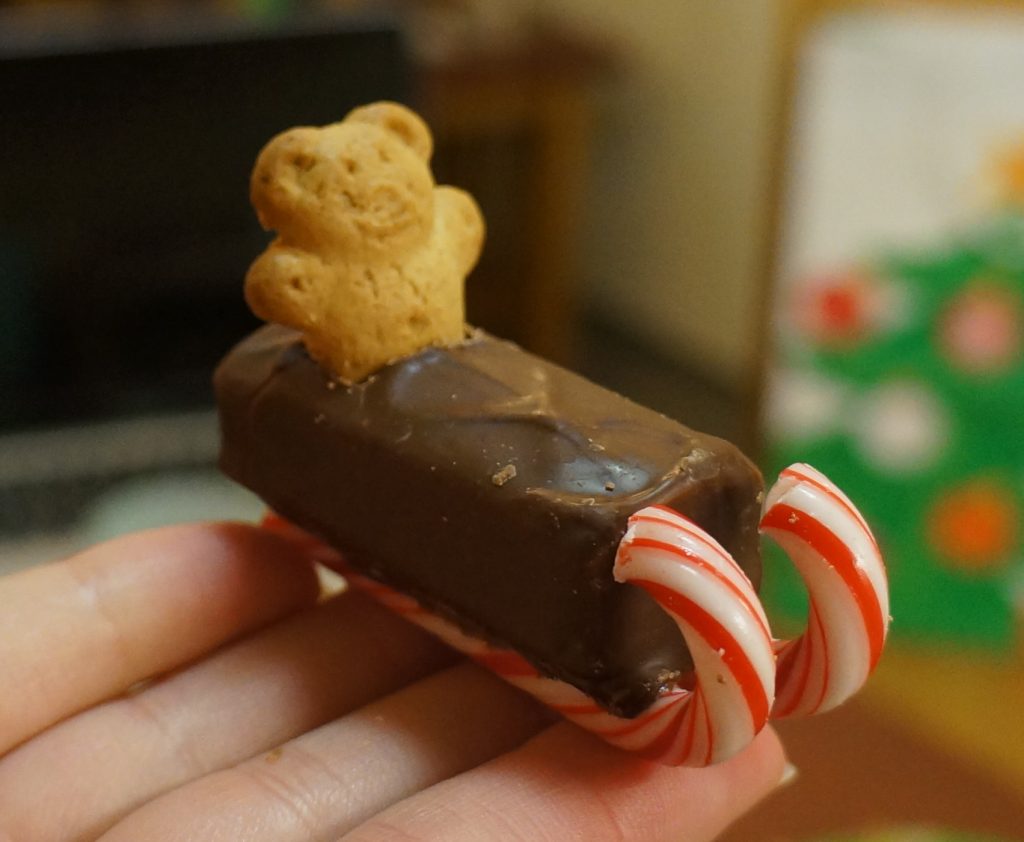 Check out step-by-step directions for some of our other popular holiday treats: