Happy Friday!
We're happy to report that it has stopped reaching the 90's here in Florida, thank goodness. We can finally start drinking hot tea and hot cocoa and enjoying pumpkin spice lattes the way they were meant to be (hot- there's something inherently wrong about an iced pumpkin spice latte, but we do what we must).
With Halloween around the corner, we've been treating ourselves to a few fall treats, like these mini apple pies! We thought these would make a nice little Pinterest project for us to try:  apples are deliciously in season right now, and the smell of apple pie baking is HEAVENLY. Plus apple desserts=autumn, obviously.
These are the cutest little things because while apple pie is a standard, they certainly add an element of surprise! They're entirely edible, rather unexpected, and everybody gets their own!
To make these pies, you'll need to gather your ingredients (this makes 4 apples, we tripled the recipe to make 12):
4 apples (we used granny smith)
1 heaping tsp cinnamon
pinch of nutmeg (about 1/8th tsp)
1/4 cup sugar
1 T. brown sugar
4 small pats butter
1 frozen pie crust (leave it out to thaw)
Now you'll want to prepare your apples. First, cut the tops off
Now, use a spoon to hollow out the apples.
It works best if you try to get most of the core initially with a big spoon, then scoop out the rest of the insides. We ended up using a batter scoop to get most of the apple scooped out; however, a small spoon would work as well.
Now, you should have your apples hollowed out. Chop up the apple bits that you hollowed out (not including the core), and put them aside in a bowl. Peel and chop the apple tops and add them to the bowl as well.
Now you'll be mixing your dry ingredients in a small bowl. Add your cinnamon, nutmeg, sugar and brown sugar.
Mix your dry ingredients well and add them to the bowl of apple bits. Toss the apple bits until they are evenly covered.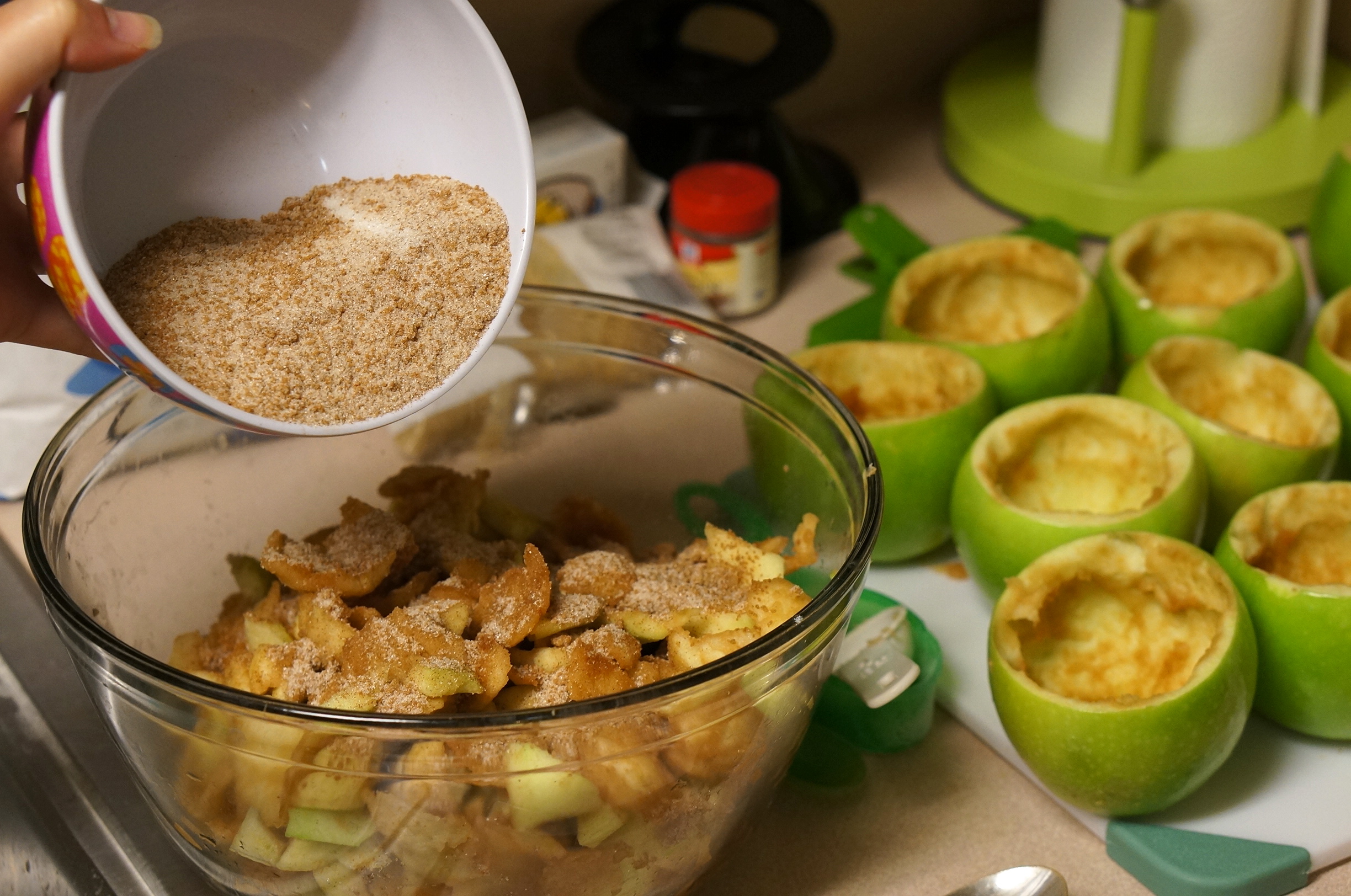 Now, fill your hollowed apples with the apple bit mixture.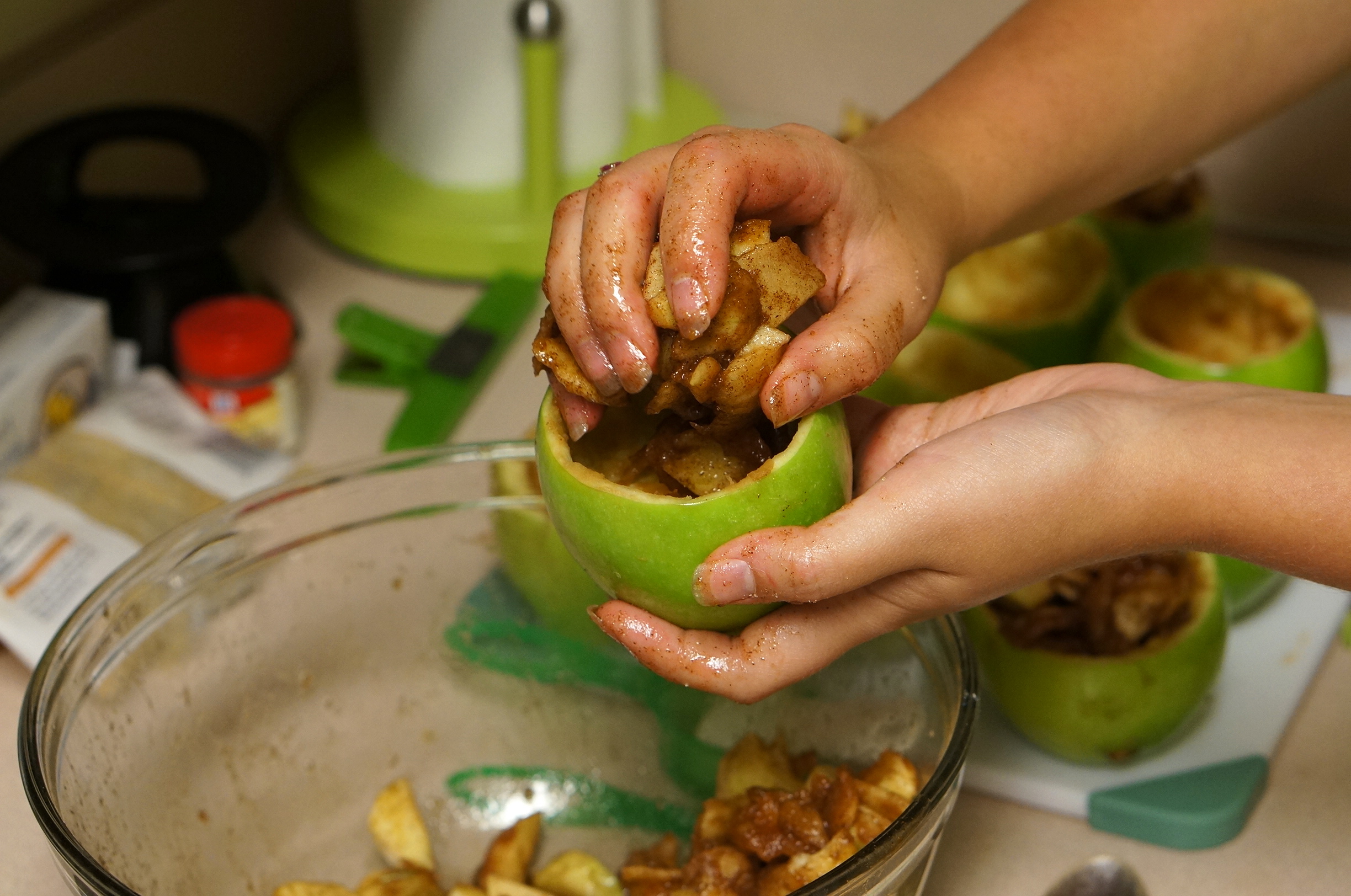 Don't they already look yummy?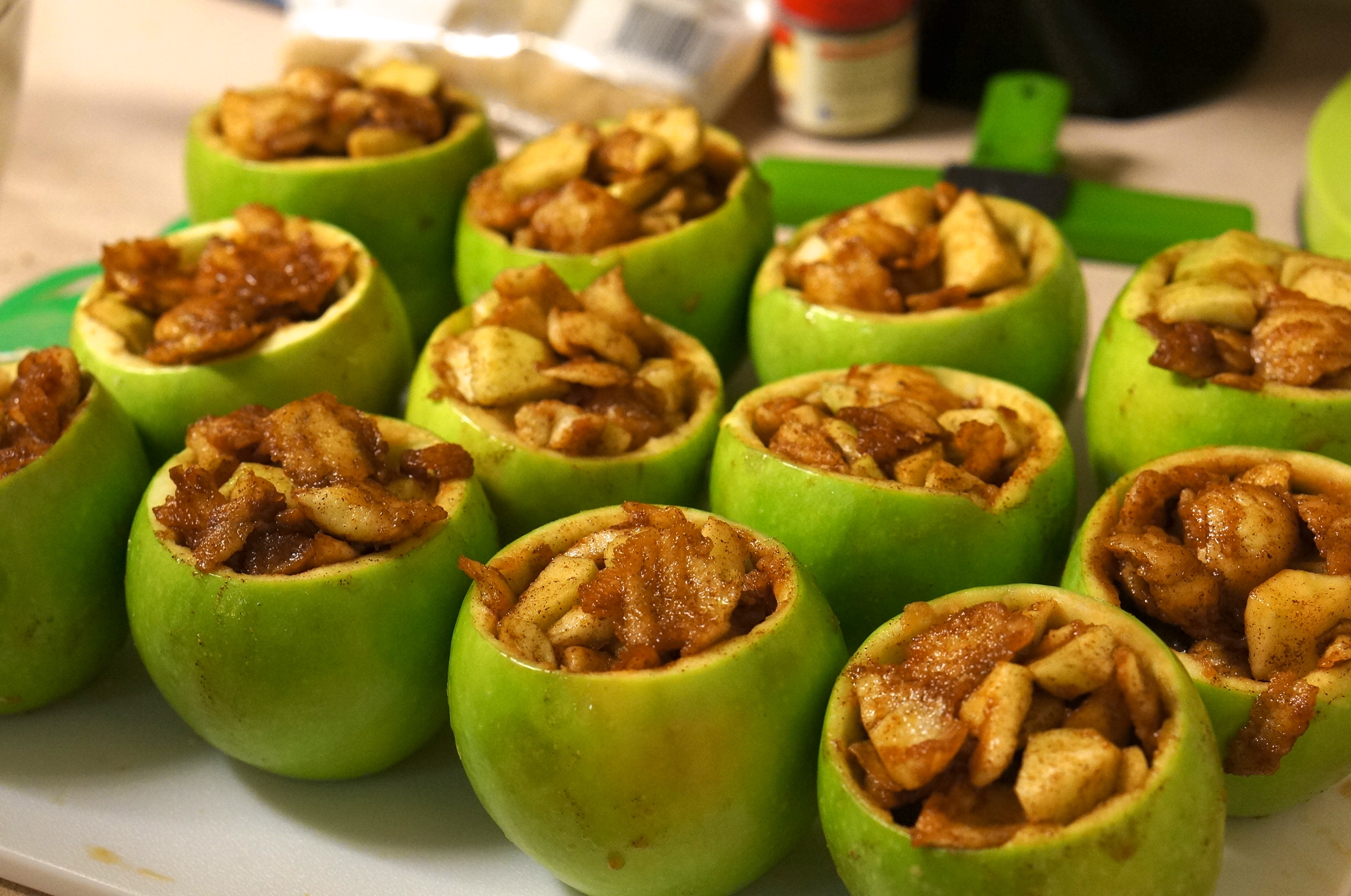 Unroll your pie crust and cut it into strips.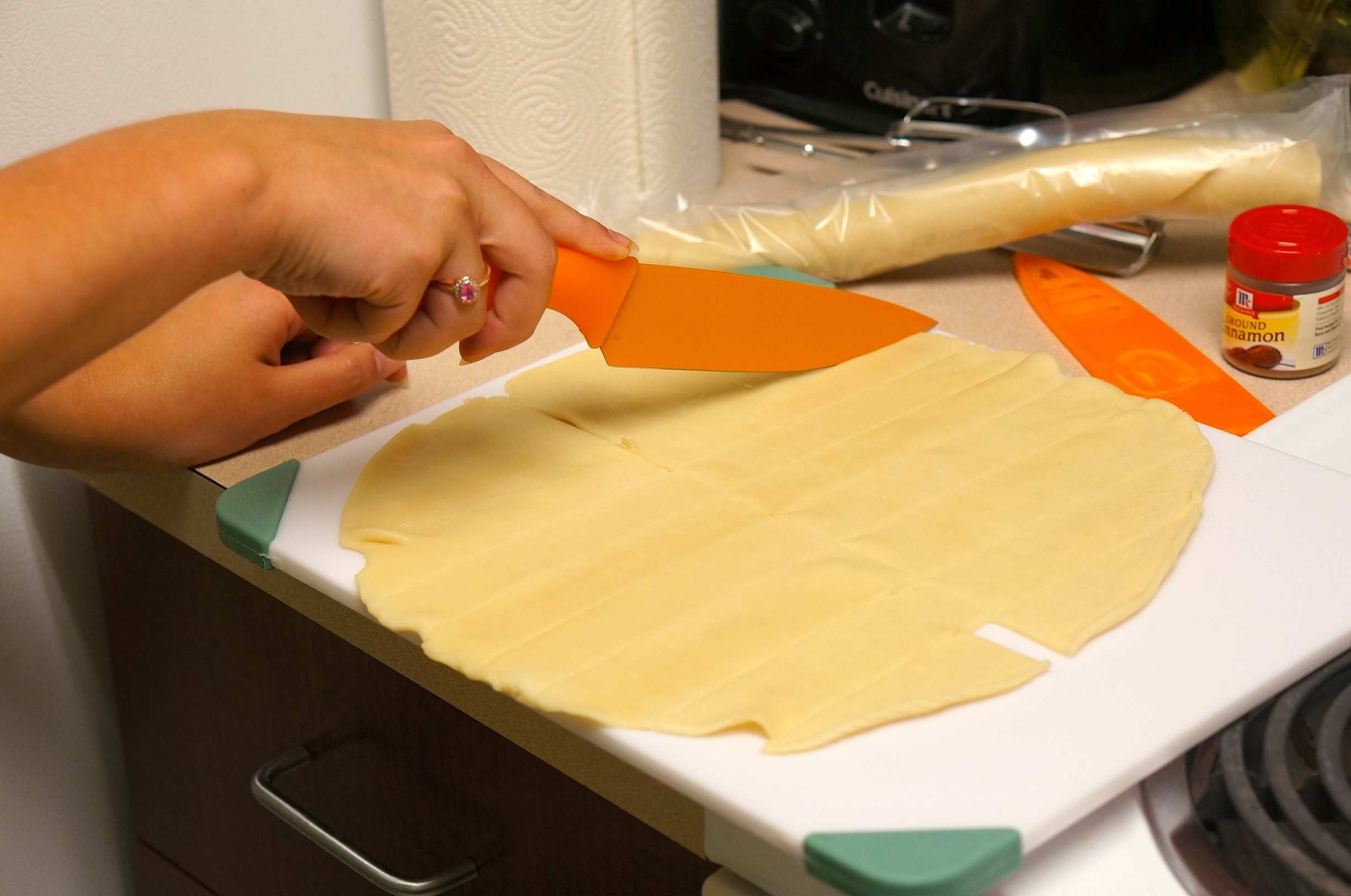 Place a small pat of butter on top of each apple.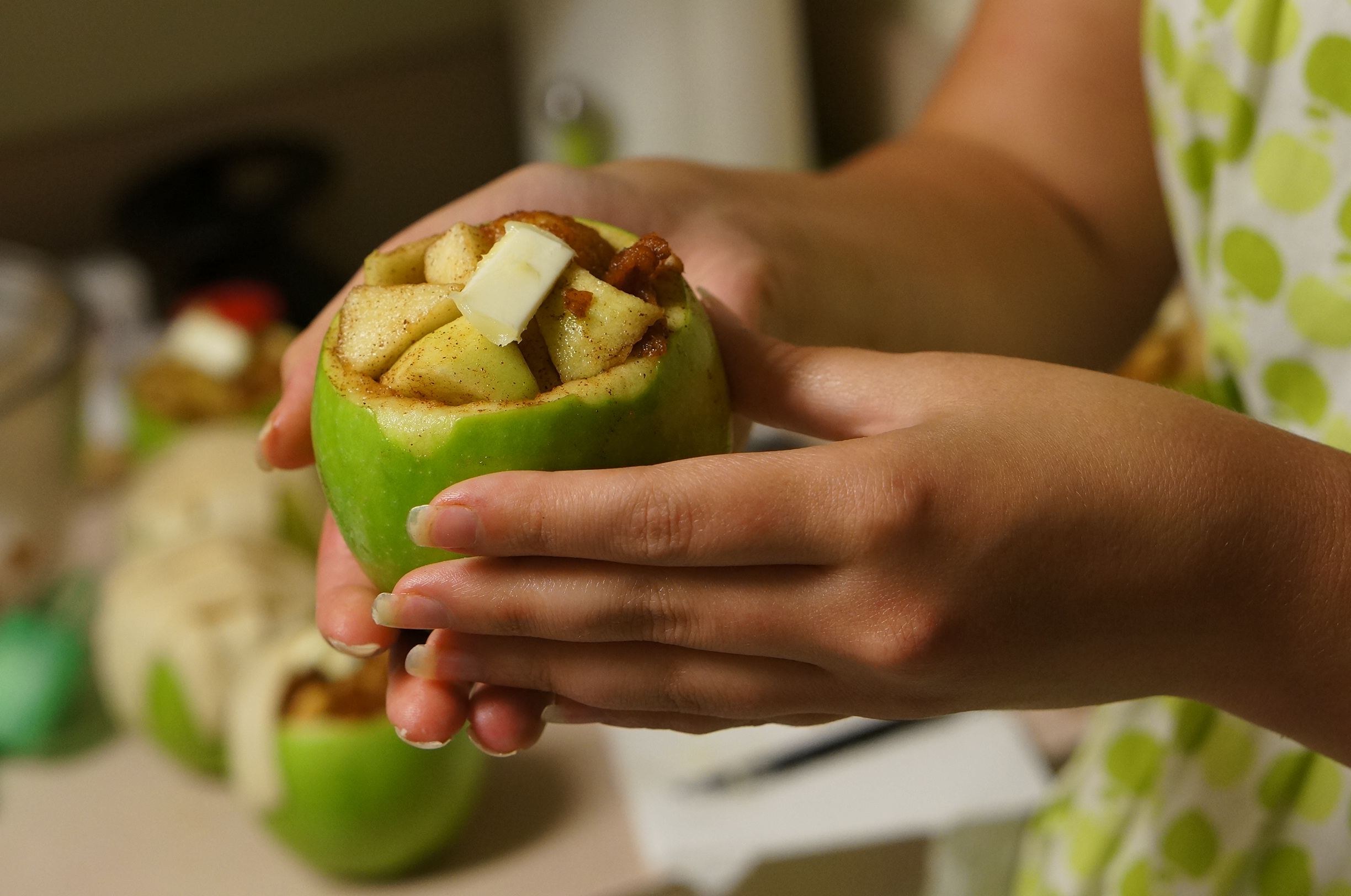 Place about 3 strips of pie crust over the top of each apple. Then place about three more in the opposite direction. You can also lattice the strips if you feel so inclined.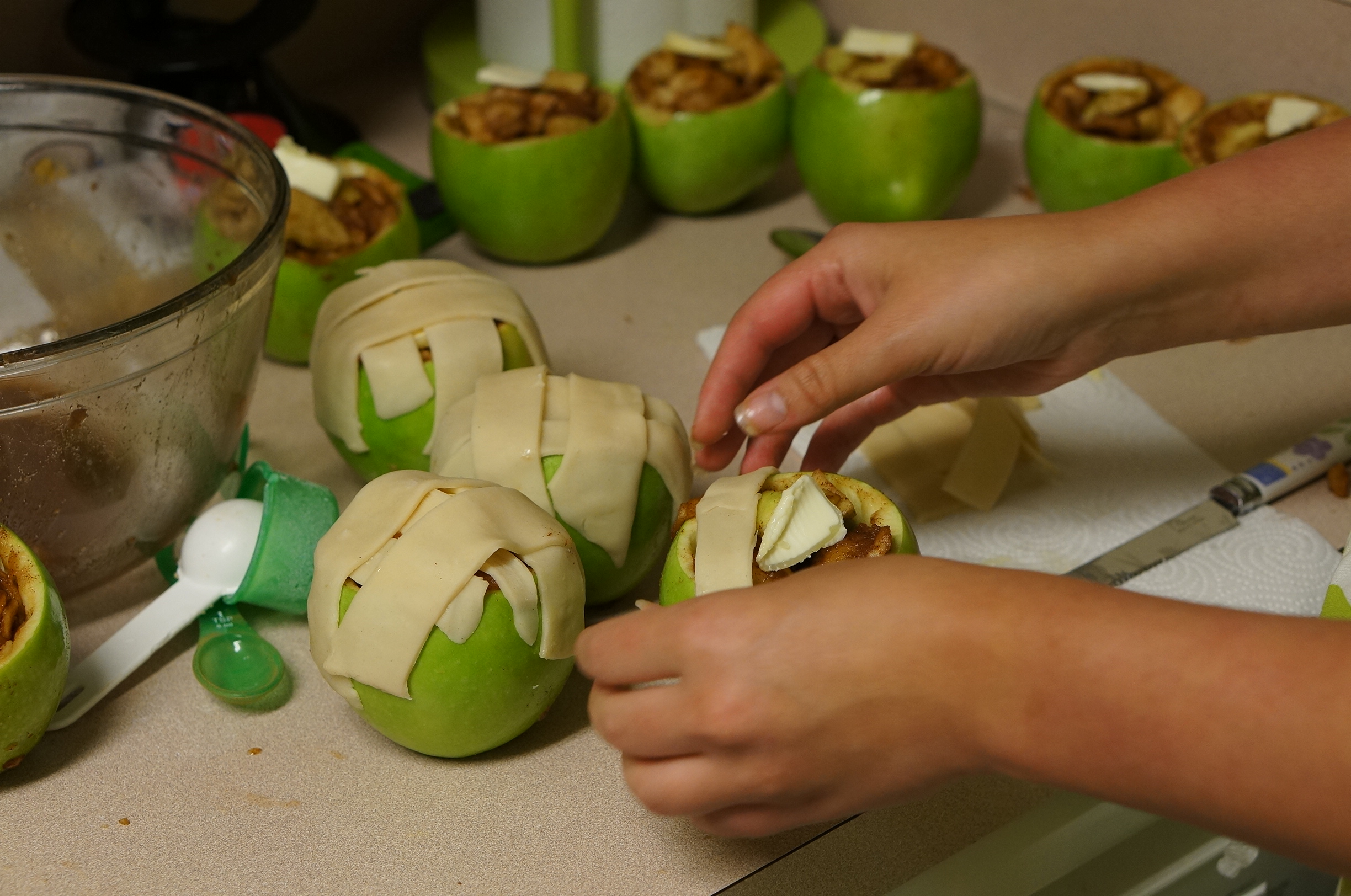 Now it's time to bake! Place the apples in a pan; pour water into the pan. I think we used too much water, so we suggest just enough water to cover the bottom of the pan. Cover the tops of the apples with aluminum foil and bake them in a 375 degree oven for 30 minutes. Remove the foil and bake for another 12 minutes.
The most I can say about these mini apple pies is that they're cute… at least those that didn't explode!
These apples were pretty disappointing. The hollowed out apple got really soft while baking and several of them fell apart/exploded. The ones that remained pretty still left something to be desired.
The insides and crust actually tasted awesome, but the hollowed out apple part was mushy and unappetizing. This was upsetting because the very thing that was "cool" about this recipe (each pie coming in its own little edible container of apple), didn't taste good. For the amount of work put in, you may as well have just made an actual apple pie and called it a day.
Oh well! This is why we try these things- so you don't have to!
Check out some of our other Fall-inspired shenanigans (that actually work)!
Caramel Pecan Pumpkin Pie          Oreo Turkey Treats             Easy Pumpkin Muffins