This shop has been compensated by Collective Bias, Inc. and its advertiser. All opinions are mine alone. #CentrumFunFlavors #CollectiveBias
---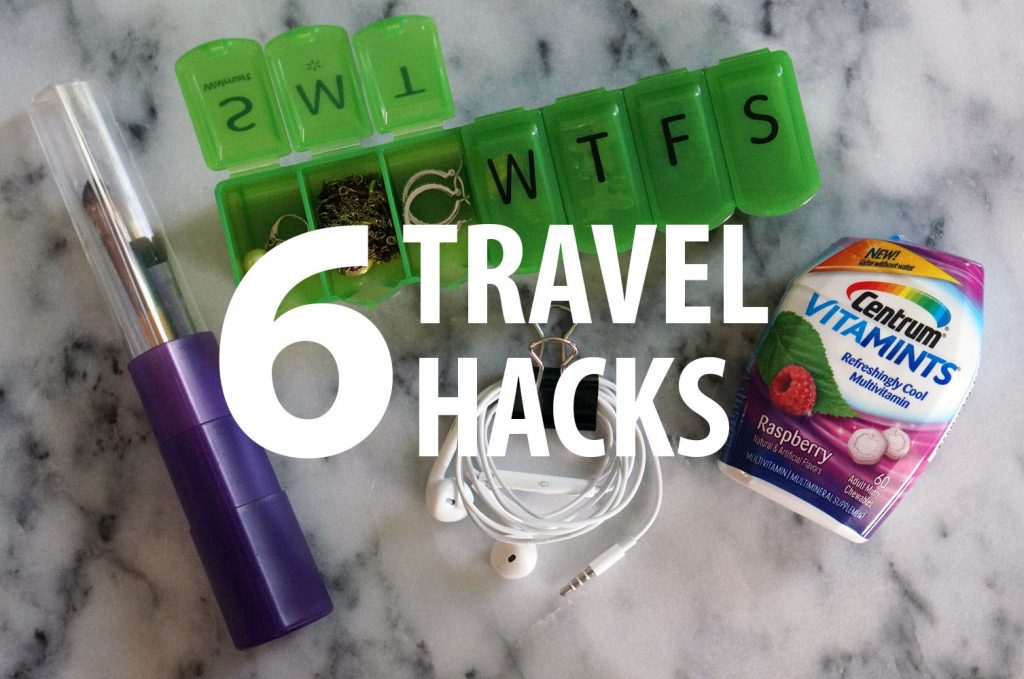 I am very lucky to have an amazing job where I help new start-ups run their social media and digital marketing campaigns. Since these businesses are always on the go, I need to always be prepared for last minute business trips. Last week one of these trips came up to go to Washington DC. With the short turn-around time, I quickly began researching travel hacks to help make my trip a smooth experience. I found so many great travel tips that I wanted to share some of my favorites with you!
1) Use a shower cap to keep your shoes separated.
I always hate putting my dirty shoes on top of clean clothes in my suitcase. Thanks to Pinterest, I found a way to fix this by using a shower cap to wrap around my tennis shoes in my bag (I found my shower cap at Walmart for $2). It worked great and fits pretty much any of my shoes!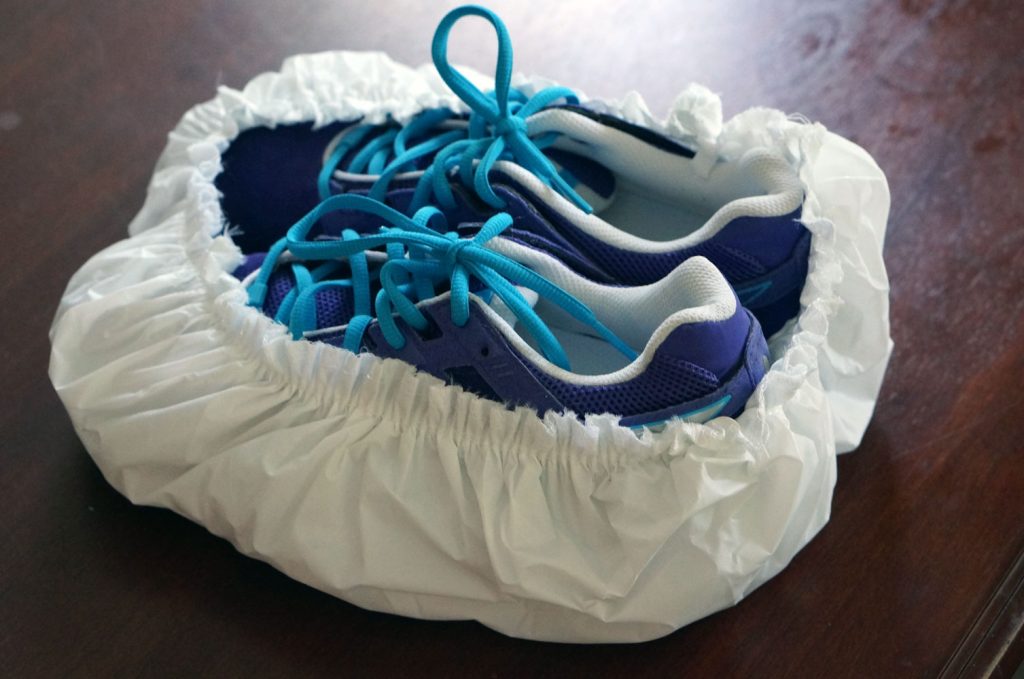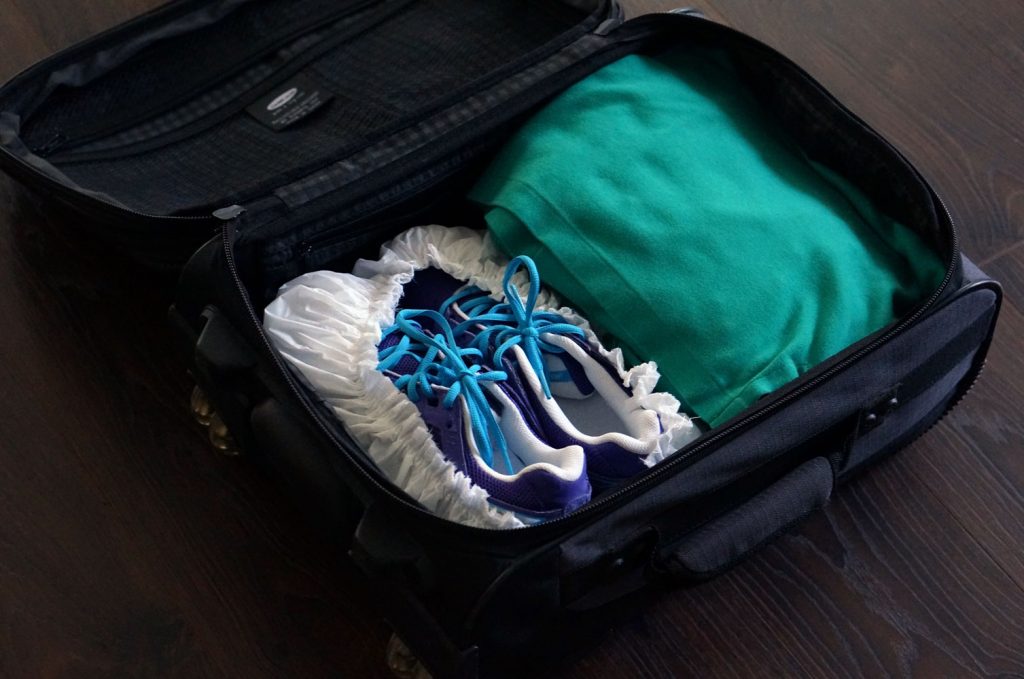 2) Bring Easy Snacks (that are TSA approved)
When traveling it can me hard to keep on a normal eating schedule. Because of this I put together my favorite snacks to carry along with me. These include pretzels, almonds, and clementines. I find that these are easy to digest, have natural sugars and protein, and are easy to eat on the plane. Also remember that you can not bring water bottles past TSA unless they are empty, so I would recommend bringing a reusable one or purchasing a water bottle after you go through security.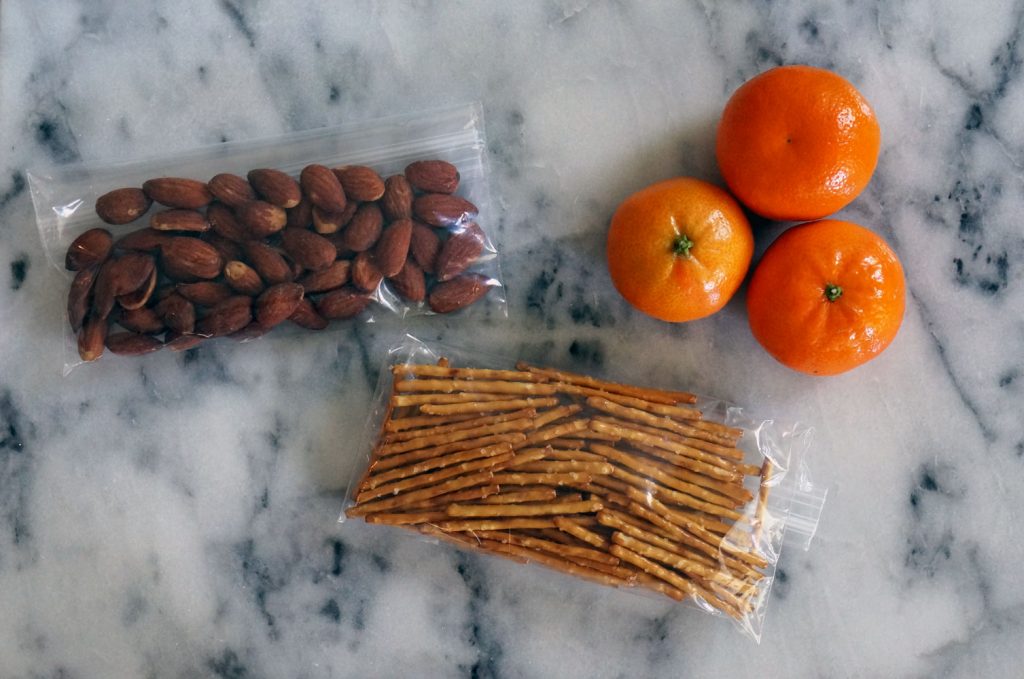 3) Bring easy-to-eat vitamins.
I like bringing Centrum Gummy Vitamins on trips with me to make sure that I  get all the nutrients I need while traveling. Before my last trip, I found out that they just came out with another product called Centrum Vitamints, which are even more convenient to travel with because they come in an easy-to-carry container, and they are a yummy raspberry flavor! You can find coupons for both Centrum Gummies and Vitamints here. You can also find them in Walmart near the pharmacy section. Enjoy staying healthy with simple solutions like Centrum Gummies and Vitamints.*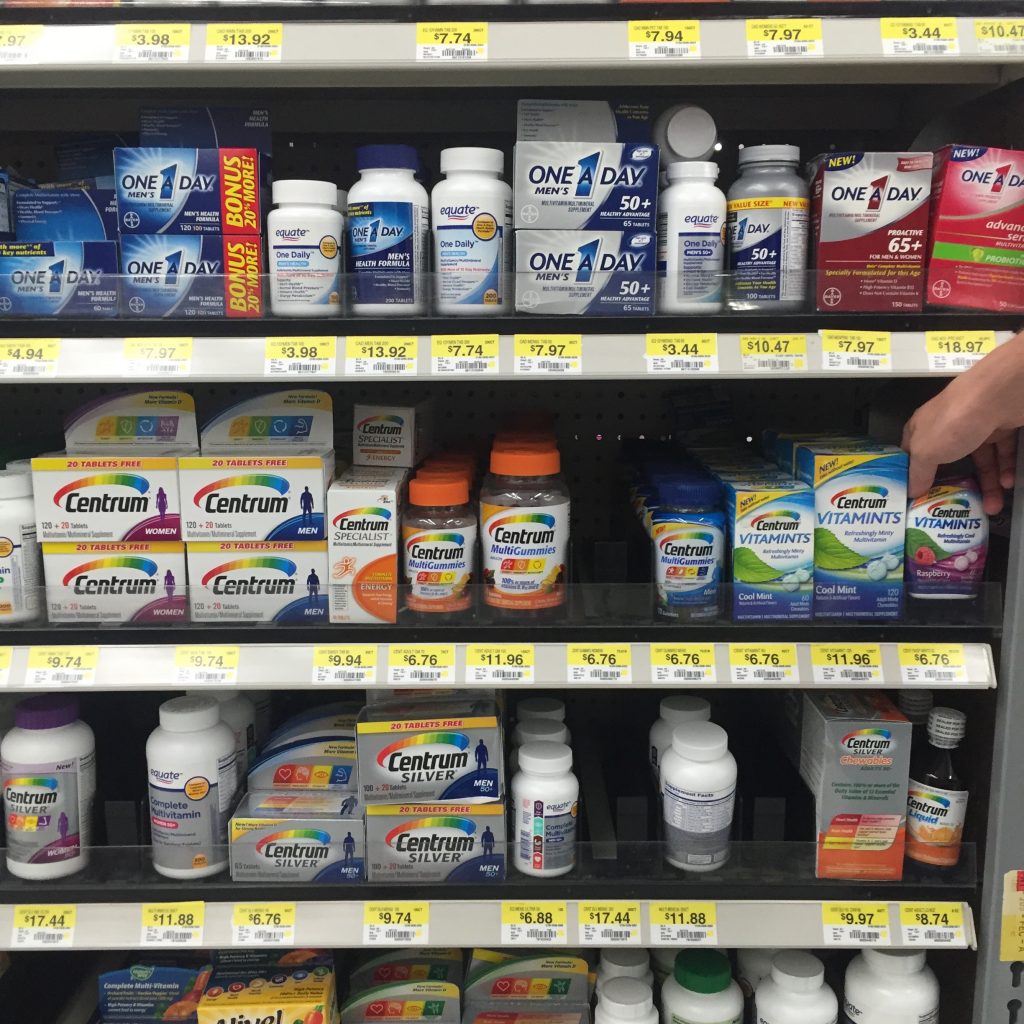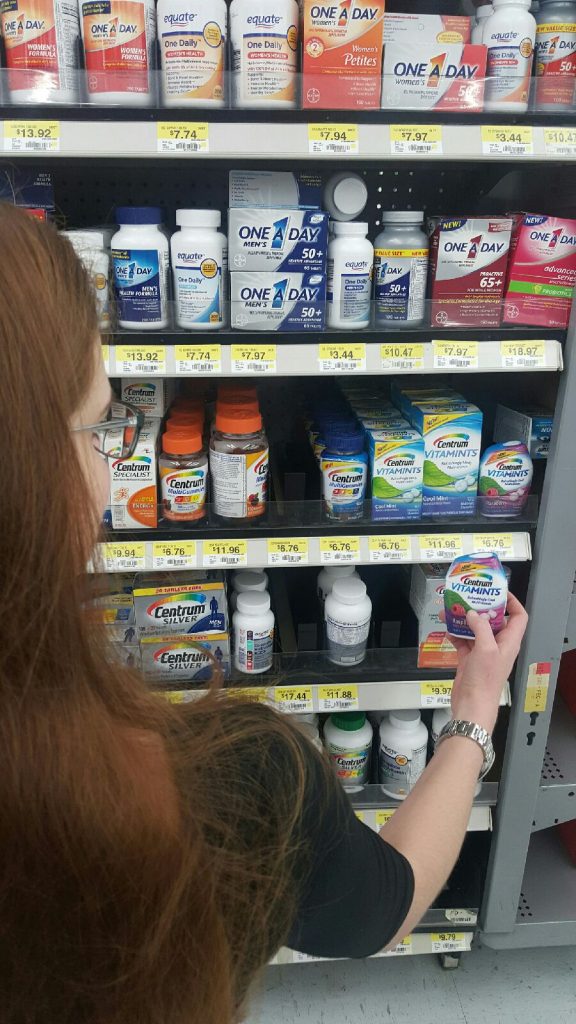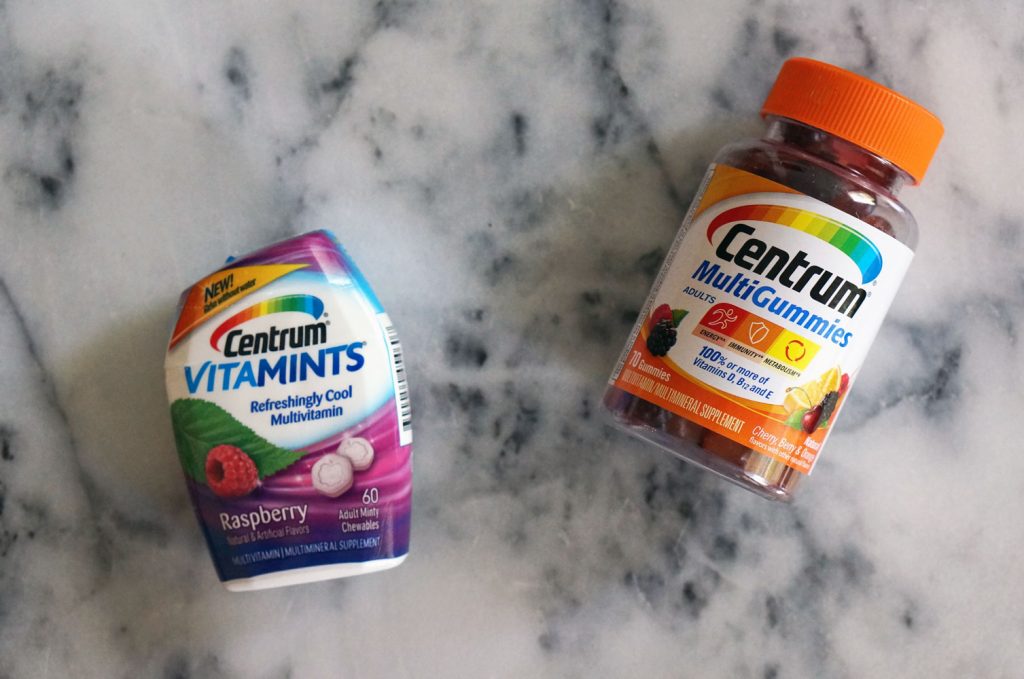 4) Carry small jewelry in a pillbox.
I am always afraid that I am going to loose my smaller jewelry while traveling. Using a pillbox as your jewelry box, you can be assured that your earrings and rings will stay put. I found this pillbox for $2 at Walmart, which is significantly cheaper than most travel jewelry cases, and it keeps delicate pieces from being crushed in your bag. You can even use it to plan your outfits too! 🙂
5) Put makeup brushes in toothbrush holder.
I put my small makeup brushes in an extra toothbrush holder. It keeps them clean and safe from getting bent in my toiletry bag, and prevents them from spreading makeup to other items.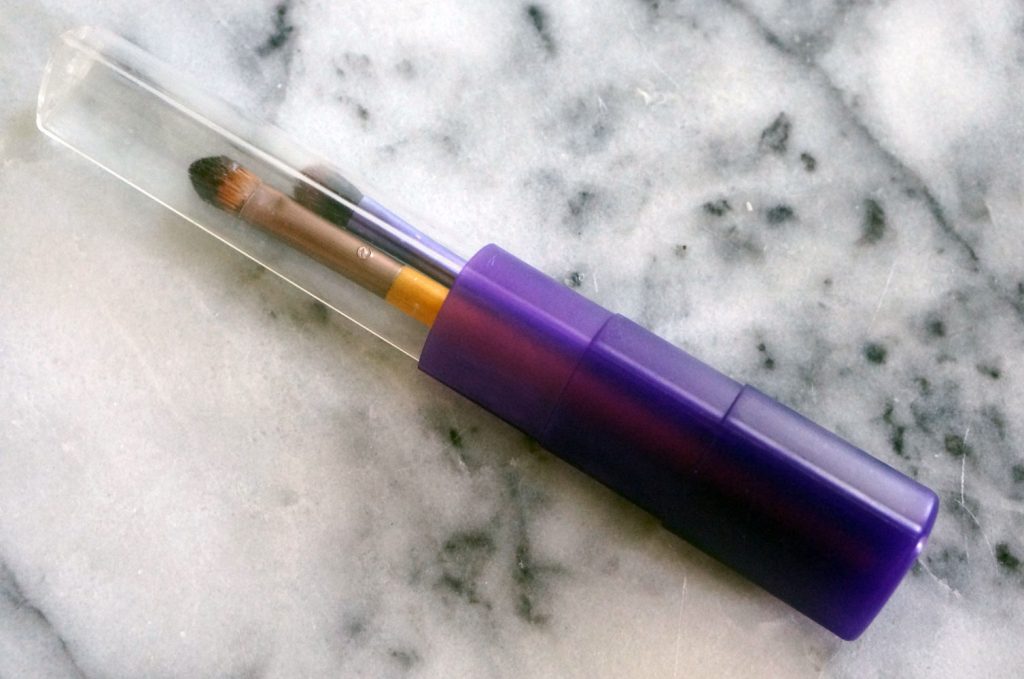 6) Pack Earphones and Earplanes.
Don't forget earphones so you can easily listen to music or a movie on your phone or ipad. You can use a large paper clamp to keep your earphones from getting tangled. Also if you have bad issues with pressure in your ears during landing and takeoff (like I do), be sure to pack Earplanes, they work wonders.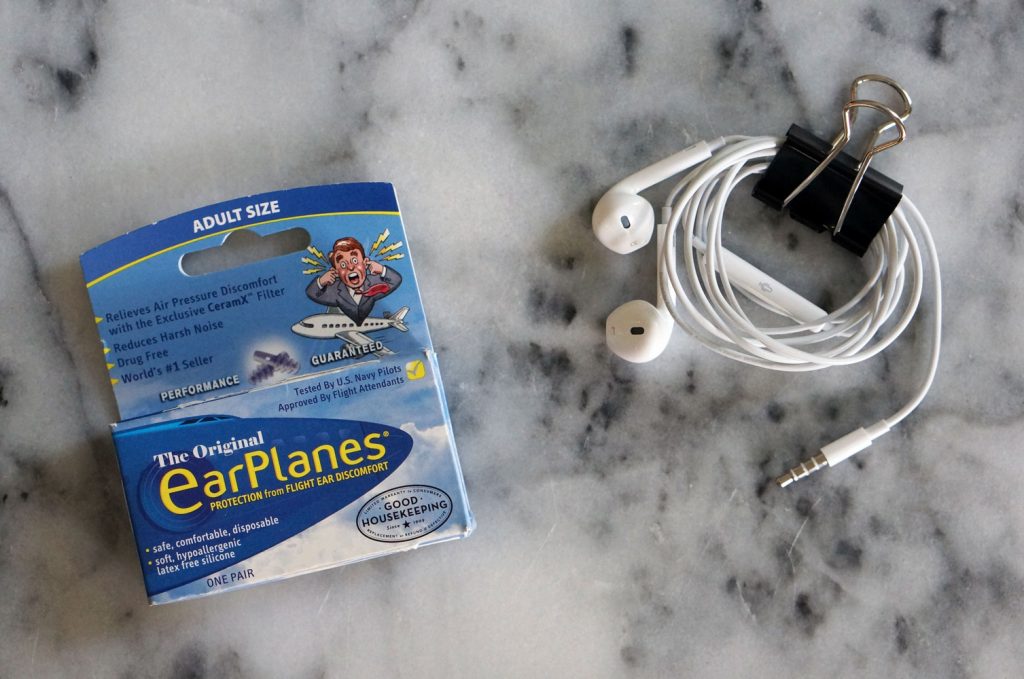 Hope that these travel hacks will help you on your next trip and if you have any more be sure to share them with me below! Here are a few photos from my DC business trip for you to enjoy. I stayed at the beautiful Fairmont Hotel, and we were lucky enough to have several of our business meetings in offices directly across from the Capital.
*These statements have not been evaluated by the food and drug administration. This product is not intended to diagnose, treat, cure or prevent any disease.