You might have noticed that I have been posting less frequently than usual, and that's because I am now the proud owner of a new condo (or at least new to me)! Between the move and renovations its been hard to find time to post, but I finally decided to have a little Housewarming / Christmas Party last week. I adapted several of my recipes to make them Christmas themed and came up with some new recipes that I wanted to share with you!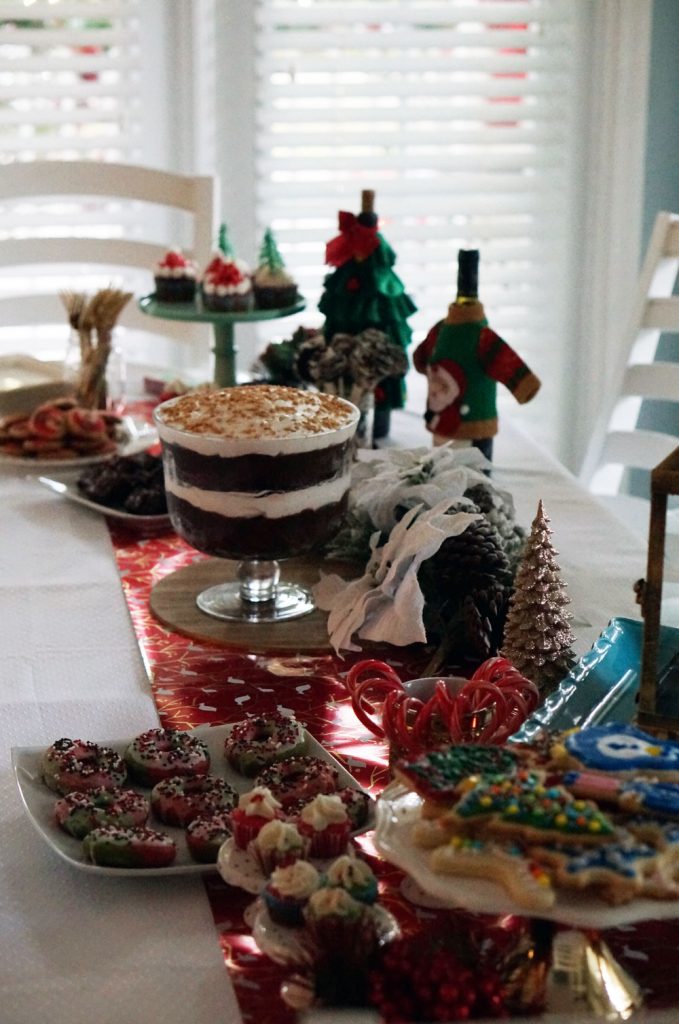 Above is a picture of my Christmas Dessert tablescape! I used wrapping paper for the table runner and it turned out so cute! Here is a list of all of the desserts I made in the spread:
Christmas Party Desserts
1) Marshmallow Flowers – You may recognize these adorable marshmallow flowers from a previous blog post, but they got a festive update for Christmas. Instead of making the bright random colors I opted for Red and Green sugar. When you make a bunch of them you can actually form them into a wreath. Click here for full marshmallow flower recipe.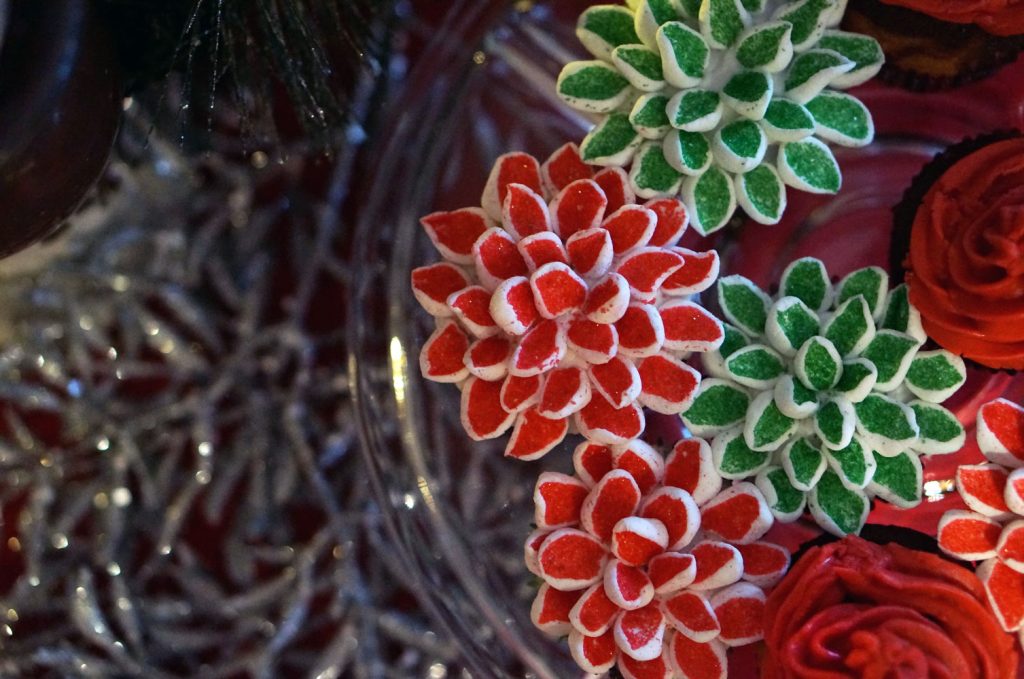 2) Chocolate Kahlua Trifle – This is one of my absolute favorite family recipes! It is super easy to make and so pretty that I had to make it the star of the show! Click here for the full Kahlua Trifle Recipe.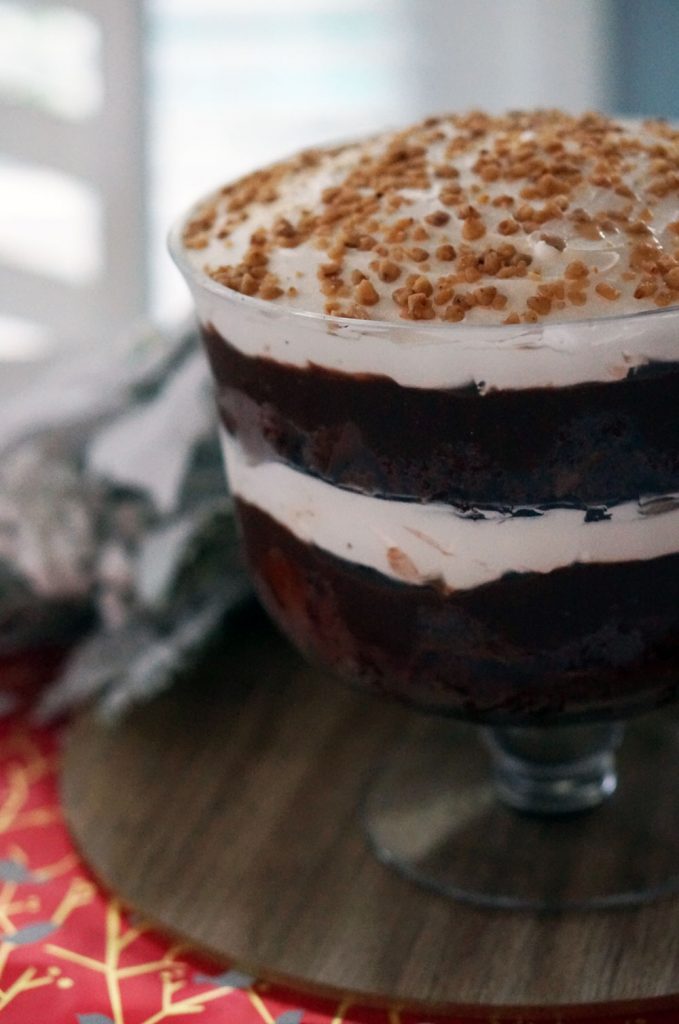 3) Red and Green Doughnuts – So this is a new recipe that I decided to try out for the party, but it turned out to be everyone's favorite! I adapted this recipe (from Jennifer Meyering) by splitting the batter and dying it red and green before piping it into the doughnut pan!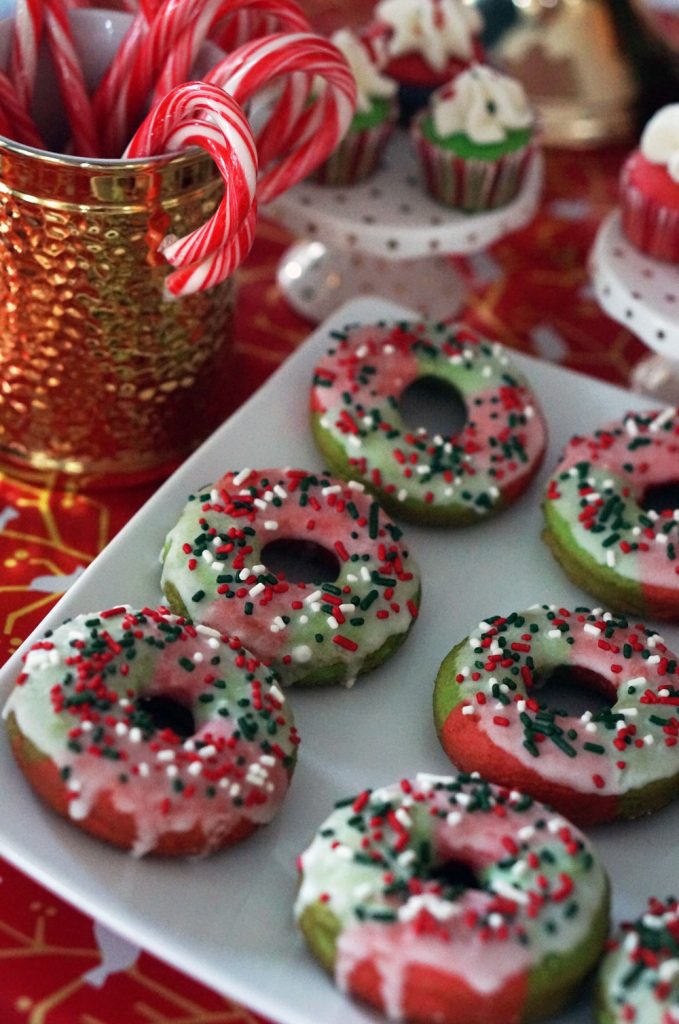 4) Classic Christmas Cookies – I finally found a cut out cookie recipe that doesn't spread and doesn't have to chill in the fridge before baking. I made a bunch of fun shapes and my roommate and boyfriend did a phenomenal job decorating them!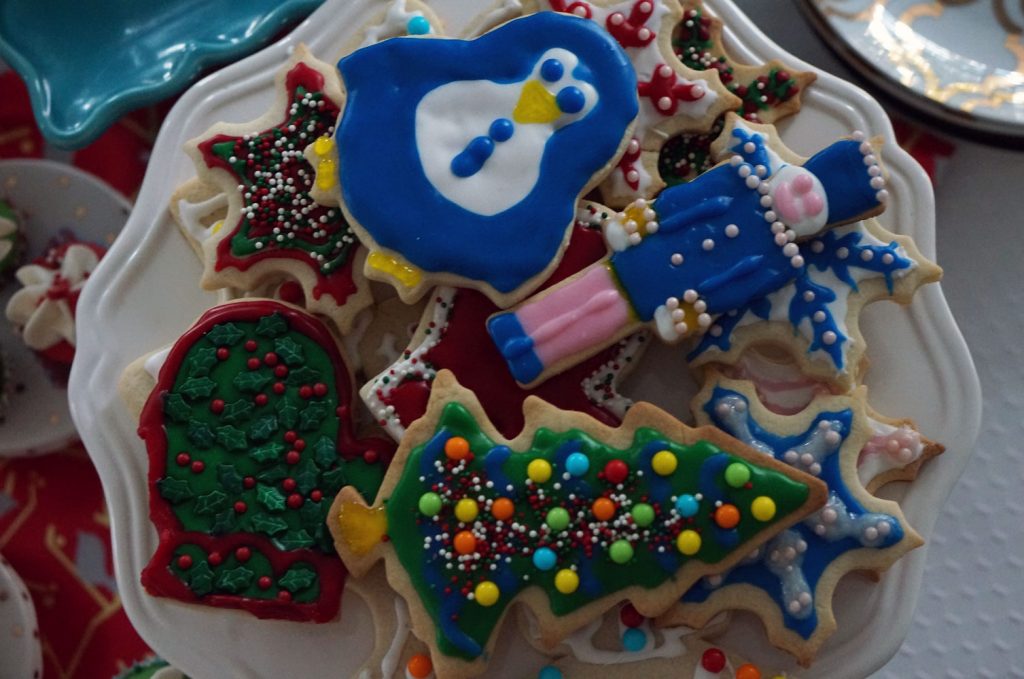 5) Christmas Oreo Pops – These were probably the easiest recipe to make. All I did was put the OREOs (I used special edition red holiday OREOs) on a lollipop stick, then melt some white chocolate and drizzle it on top. I finished it off with some festive red and green sprinkles before the white chocolate dried. They were displayed in mason jars on the table to give the table variations of height and texture.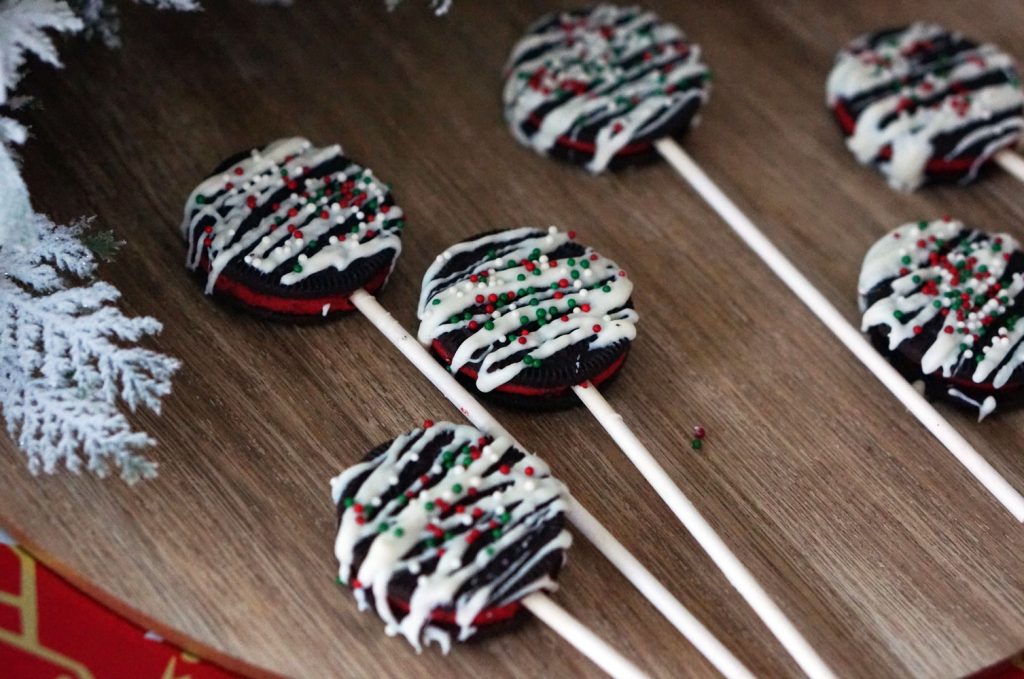 6) Santa Hat Cupcakes – I made some regular boxed mix cupcakes and decorated them to make adorable santa hats. All you have to do is dye some icing red and pipe it on the cupcake in a traditional swirl style. Then take mini marshmallows, cut them in half and place them around the base and one on top.
7) Mini Cupcakes – Because you can never have too many cupcakes, I made some red and green mini cupcakes to fill space on the table. I used some of the leftover doughnut batter to fill little cupcake tins. I then topped them with icing and festive sprinkles.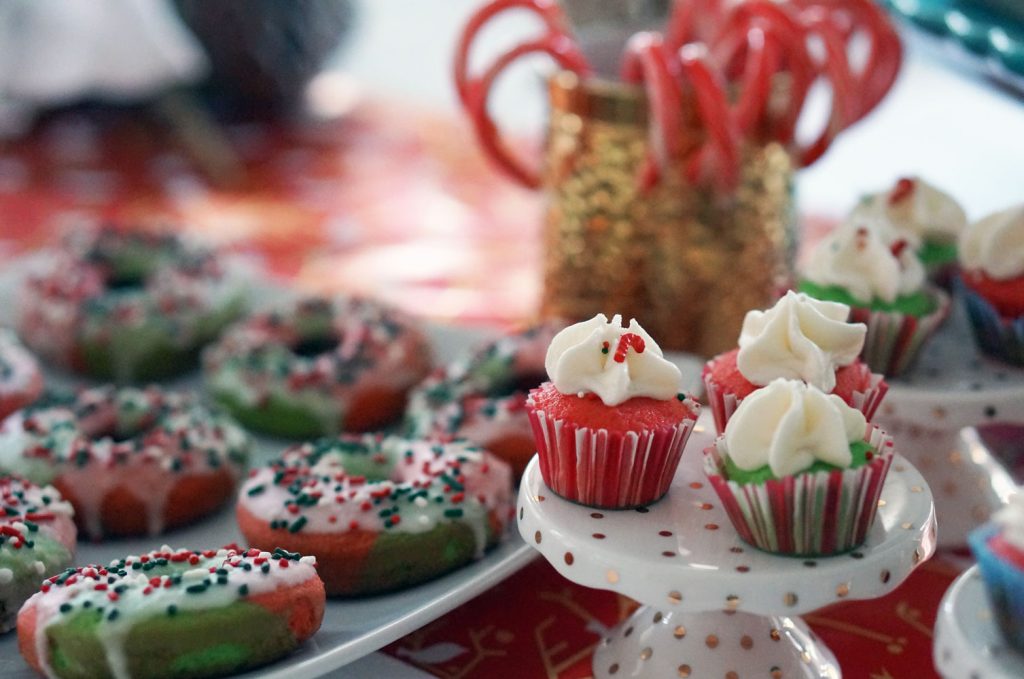 Christmas Party Tips
Tips to create a fun dessert tablescape:
Use wrapping paper as a table runner
Pick a color scheme (I used red & green with accents of gold)
Use cake stands to add height and interest to your tablescape
Add some candy canes in a pretty mug or cup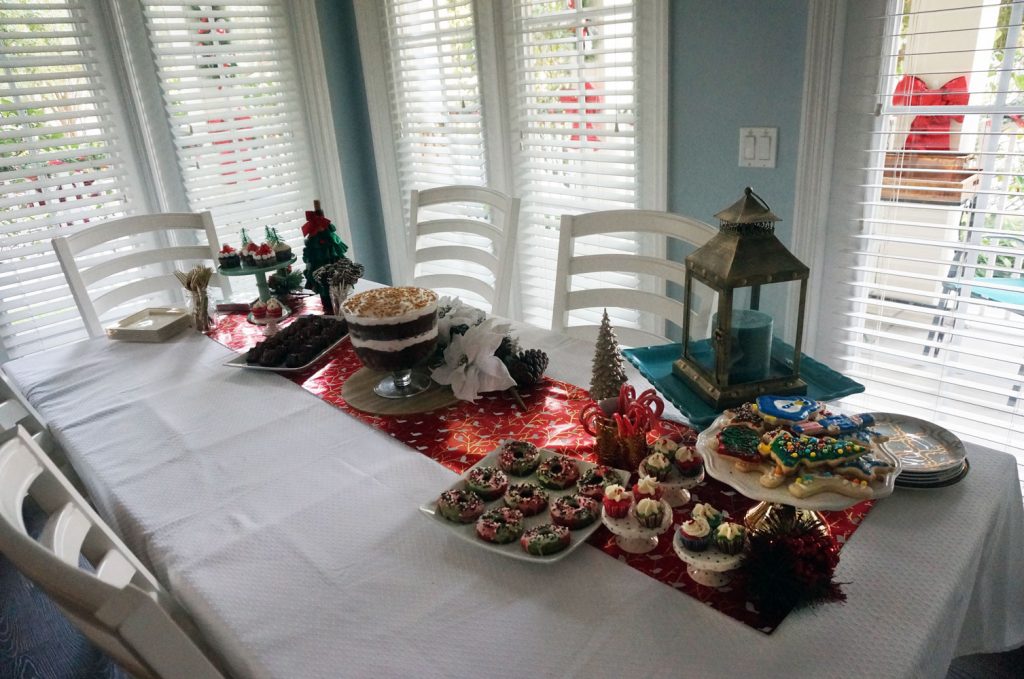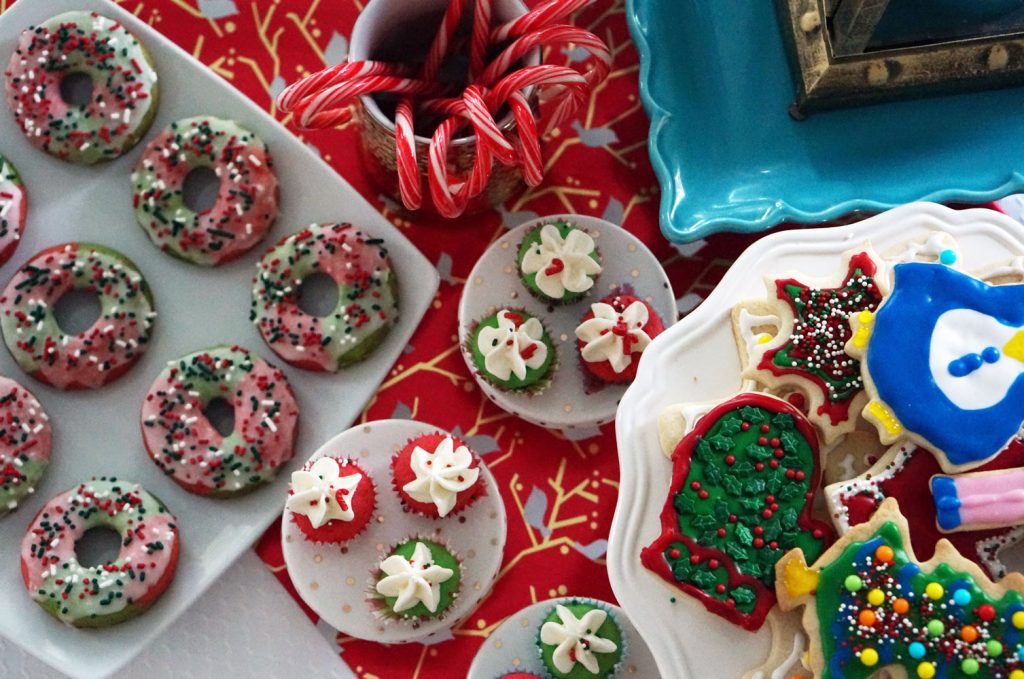 The party was a success. Here are a few photos of us enjoying the party. Also since I know you are probably wondering, I got my apron as a gift from my aunt a couple years ago — she actually handmade it! One of my favorite gifts ever!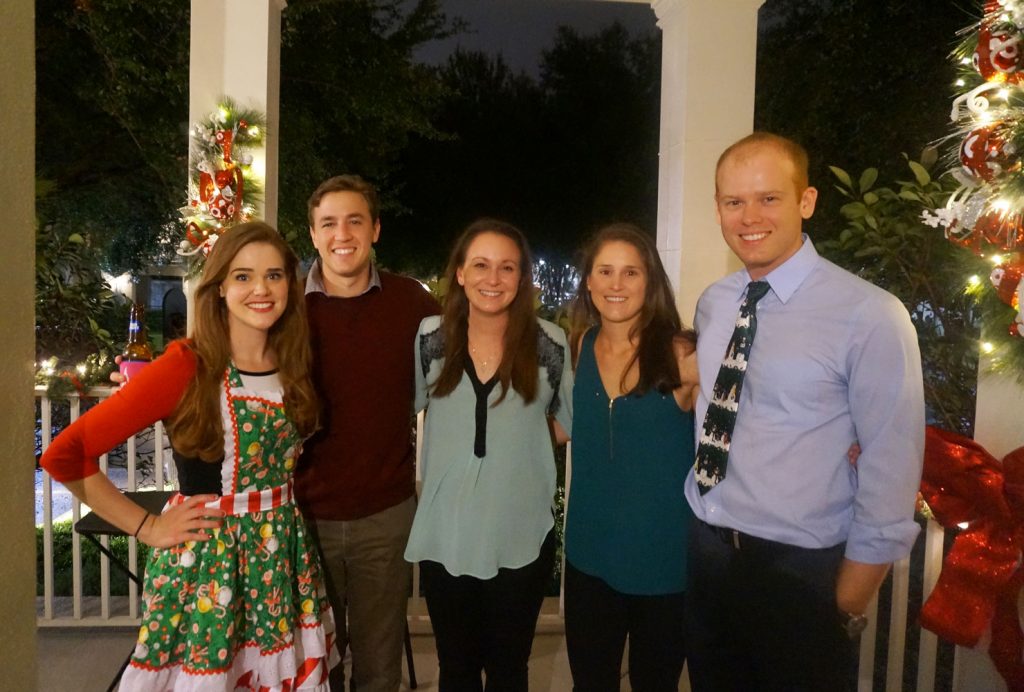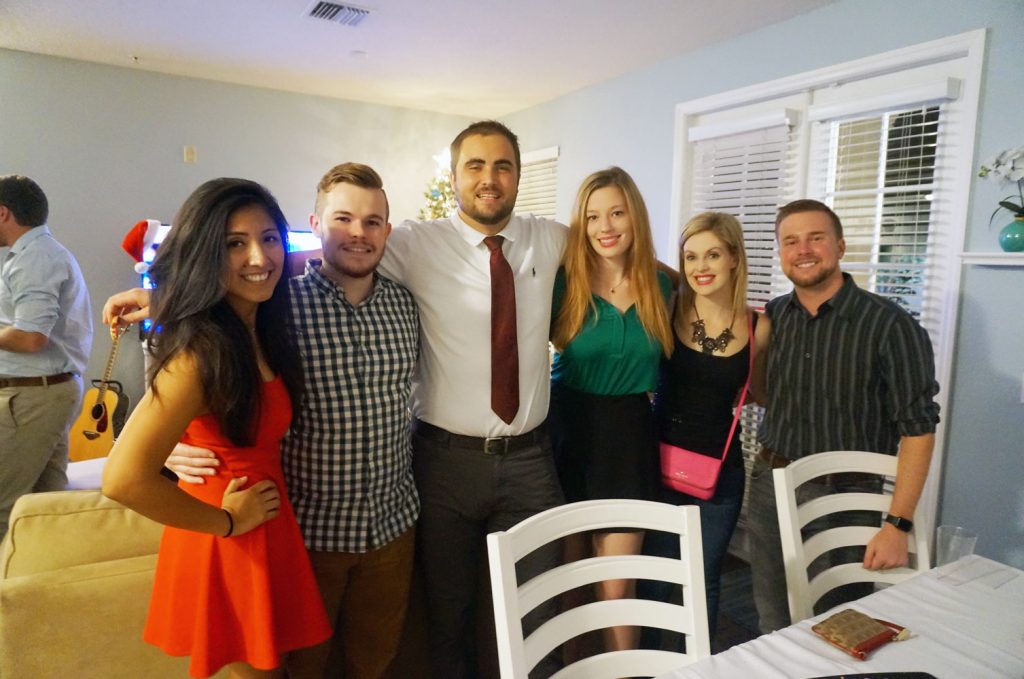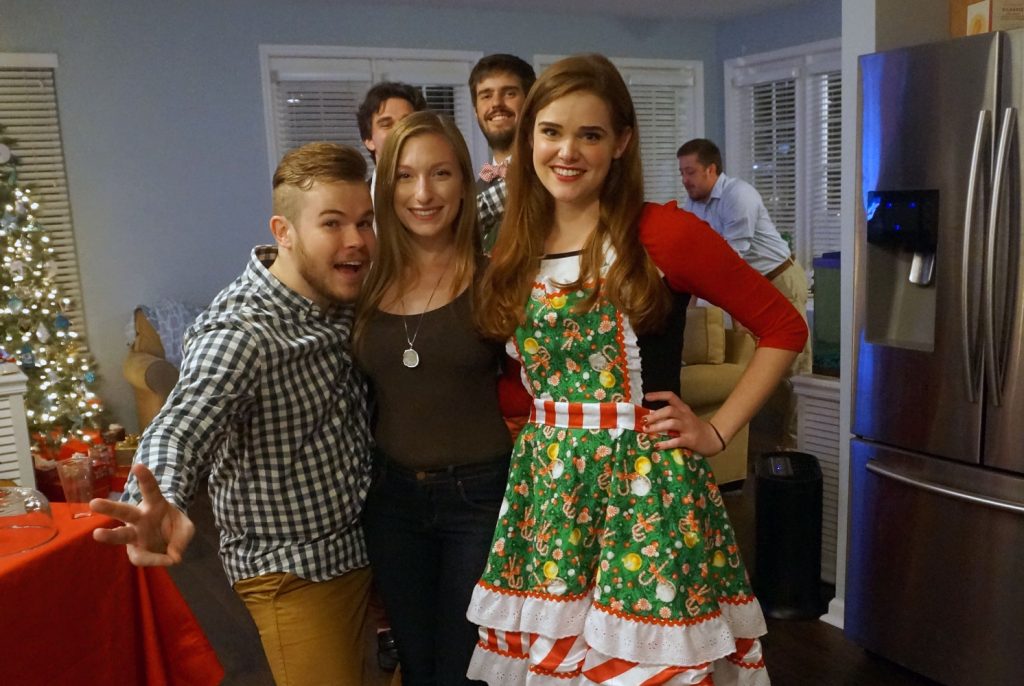 If you try out any of these recipes or have any good party tips be sure to share them!